Original Canopy Chair 2023 4th Generation "Tailgate edition"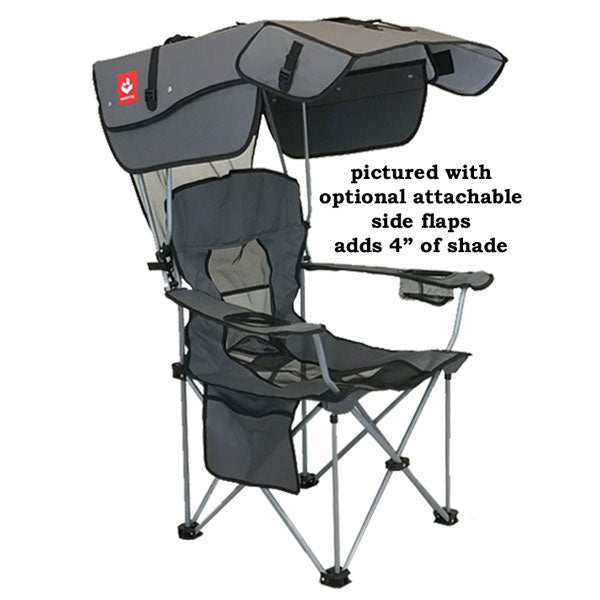 *IMPORTANT NOTICES*
***** ALL FIRST PHOTOS DISPLAY THE "OPTIONAL" ATTACHABLE SIDE FLAP EXTENSIONS. THESE ARE SOLD SEPARATELY*****

 
***** ALL PHOTOS MAY HAVE SOME VARIATIONS IN COLOR TONES DEPENDING ON YOUR SCREEN RESOLUTION. THESE STUDIO PHOTOS ARE TAKEN AT DIFFERENT TIMES OF THE YEAR AND YOUR CHAIR PIPING COLOR MAY VARY*****
***** The New Attachable Wheels are an OPTIONAL ACCESSORY and will only fit the new 4TH GENERATION CANOPY CHAIR. THESE ARE SOLD SEPERATELY*****
 


Description: "Tailgate Edition" video and full description below
Please note: Our newest over-sized and adjustable cup holders are currently not shown on this video. 
What is new on the 2022 newly launched 4th generation "Original Canopy Chair" ?
Newly designed hardware inside the canopy: Allowing for less steel and parts. These new parts create a tight outward pull on the canopy ensuring a tight and straight canopy when open
larger storage pockets on the backpack
an extra handle on the top of the backpack
Now the ability to add our "coming soon" optional accessory wheels, so if desired, instead of carrying like a backpack, the backpack can be pulled behind you.
Removeable back flap and mesh for the ability to screen print and for easy replacement in case of damage.
FROM THE INVENTORS BY THE INVENTORS

over-sized canopy width: 24"

canopy length: 34"

canopy side flaps: 7"

canopy side flaps with optional extensions: 11"

multi position adjustable front canopy

newer/thicker 7mm corrugated plastic canopy insert

100% UV and water resistant

canopy becomes the bag

ALL NEW (optional) attachable side flaps

ALL NEW double thick polyethylene parts for a 400lb capacity

backpack pockets

smart pad pocket
padded seat back

600D polyester with a full layer of mesh behind for

double the strength

mesh is NOT sewn in and cannot tear

double stitching throughout chair

16mm pole thickness for the strongest chair on the

market

2 ALL NEW over-sized cup holders for over-sized cups

seat width: 23.5"

seat depth: 19"

back height: 23"

ground to seat: 18"

chair to canopy head room 35"

backpack dimensions: 38"x9"x9"

carry weight: 16lbs and transport very comfortably when both padded and adjustable shoulder straps are used

All new footstool/sitting stool accessory available, that stores in the backpack 
Important: Salt water is damaging to all steel products. The canopy chair is made from powder coated steel. Subsequently, it is essential that the frame and hardware are washed off with fresh water if being used at the beach where salt water and salt air are present.
FREQUENTLY ASKED QUESTIONS
Do RENETTO products come with a warranty?
Are the Renetto canopy chairs the same as the Kelsyus chairs seen in retail stores?
Are there different sizes of The Renetto 'Original Canopy Chair'?
When will I receive my chair?
How much is shipping?
What shipping methods are available?
What are Pre-Order Incoming Colors? and when do they ship?